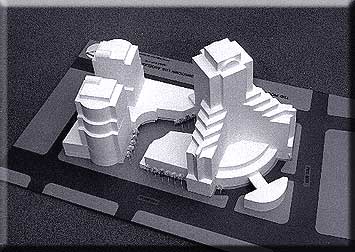 PICO PLAZA CONVENTION HOTEL DOWNTOWN LOS ANGELES, CALIFORNIA
| Plaza Photo |
PACIFIC BASIN PLAZA DEVELOPMENT SITE

The proposed project has been designed in 1989 according to the 
design guidelines formulated by the Community Redevelopment 
Agency of the City of Los Angeles (CRA). The site is located at 
the northeast corner of Figueroa and Pico Boulevard. It belongs to 
the South Park Development Area of the Central Business District 
Development Project. Major site characteristics are as follows:


Gross site area is approximately 208,000 SF
The area is designated for alternate land uses including high density housing and regional commerce
The site has 8:1 FAR for approximately 1,6 million SF Proposed project will include a major convention hotel alongside Pico Boulevard and Figueroa plus two office buildings at the northern corner of the site. Hotel complex is oriented towards main lobby of the Convention Center to create a spatial axis between the two structures. Pedestrian friendly plaza provides convenient access to other parts of the development. All buildings are set on a three story high base with an objective of forming a solid street to building connection and appropriate pedestrian scale. Vehicular access to the hotel is provided from both Figueroa and Pico Boulevard. Parking facilities consist of two underground levels over the entire block area in addition to parking area directly below hotel and office buildings. Three level atrium structures spans over the main lobby and connects reception, check-in with restaurants, bars and retail shops. Conference center is situated on the second level with direct access to the atrium and retail plaza. The hotel tower will contain 830 guestrooms and suites to meet ever-growing demand from visitors who attend numerous conventions in downtown Los Angeles.